Patri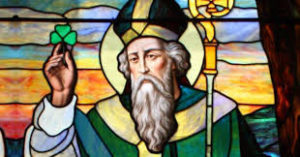 ck was born Patricius in Roman Britain to a wealthy family.  When he was a teenager, Patrick was kidnapped and sold as a slave to an Irish warlord.  Six years later, he escaped.
After he returned home, Patrick started studying for the priesthood.  But his six years of slavery put him permanently behind his peers in school.  During his studies, Patrick received God's call to evangelize the Irish, who still practiced human sacrifice and slavery.
Patrick preached the Gospel for thirty years in Ireland.  By the end of his ministry, the Irish abandoned human sacrifice and slavery.
Patrick became the saint of the downtrodden and the excluded.  Patrick preached against slavery when the Pope refused to condemn slavery.  While his contemporary, St. Augustine, spoke of women as the personification of temptation, Patrick honored women as persons of great worth to the Kingdom of Christ.  Thomas Cahill said, "Patrick is the first male Christian since Jesus to speak well of women."
Patrick first gave himself to Christ.  Then Patrick followed Christ by giving himself to those who enslaved him.  Through his love and life example, Patrick led the Irish to Christ.
"Go ye therefore, and teach all nations, baptizing them in the name of the Father, and of the Son, and of the Holy Ghost: Teaching them to observe all things whatsoever I have commanded you: and, lo, I am with you alway, even unto the end of the world. Amen," (Matthew 28:19-20).